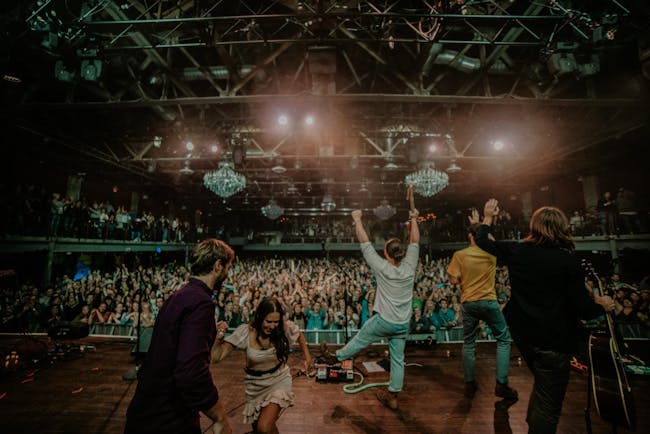 Premier Concerts and Manic Presents:
Mt. Joy (live stream)
Space Ballroom.
Hamden
,
CT
$12.00 - $15.00
Sales Ended
On NoonChorus
July 23 + Aug 6 - 2 different, 50 min sets w/ no repeated songs! Purchase tickets for an individual date or bundle to experience both shows!
Livestream begins Aug 6 at 7:30pm. The video archive will be available for 72 hours following the stream.
*This event is NOT happening at Space Ballroom

"These dreams are more than paper things," sings Matt Quinn on Mt. Joy's infectious folk-rocker "Astrovan," a warm, yearning bit of road-trip philosophy that posits the existence of a Deadhead Jesus cruising the dusty highways of the countryside, nursing a roach on his way to only He knows where. It's an auspicious line from a band predicated on the revival of teenage dreams.

Mt. Joy started off as a rekindling of shared musical ambitions between Philadelphia high school friends Matt Quinn (vocals, guitar) and Sam Cooper (guitar). Reunited in Los Angeles thanks to the ebbs and flows of adult life, the pair met multi-instrumentalist Michael Byrnes through a Craigslist ad. They named themselves Mt. Joy as an ode to a mountain in Valley Forge National Park near Sam's childhood home, and together, with Byrnes' roommate Caleb Nelson producing, they recorded three songs and sent them out into the world, hoping for the best. "I knew I still wanted to write songs, but the realities of life made that dream seem pretty impossible," Quinn says.

Much to the band's amazement, "Astrovan" accomplished the impossible. Without initial promotion or fanfare, the song took off on Spotify, racking up 5 million streams to date. "The irony of 'Astrovan' was that song was really about being stuck in a life and wanting to have the opportunity to pursue a dream, and in an instant it gave us that opportunity. " Quinn says. Mt. Joy quickly transitioned from a part-time calling into a full-fledged band rounded out by Byrnes on bass, Sotiris Eliopoulos on drums and Jackie Miclau on keyboard.

Come 2017, Mt. Joy hit the road, and hit it hard: They played tour dates alongside the likes of The Shins, The Head and The Heart, The Lone Bellow, and Whitney, and popped up at some of the summer's biggest festivals, including Bonnaroo, Newport Folk Festival, Lollapalooza and Made In America. "We were put on some big shows very quickly," Quinn says. "The growth for us has been exponential - we've really just become a family that's constantly pushing each other and the live show to be great." They eventually caught the attention of Dualtone Records and began work on their debut album.

Steeped in folk-rock tradition and powered by the intuitive creative connection between Quinn and Cooper, the songs on 'Mt. Joy' depict Quinn wrestling with his own conscience, where the mundane and the fantastic collide as he processes tragedy, society, and love. Opener "I'm Your Wreck" describes "monsters in (the) closet, using up the wi-fi" as it cycles from its desperate, spiraling verses to its swinging, stubbornly optimistic coda, while the loping, plaintive chords of "Younger Days" meditate on a frayed psyche and the fear of choosing the wrong path. "Sheep," with its collapsing, hoarse-voiced cry of "freedom was paid in blood," is a post-Trump salvo on the responsibilities of the fortunate to overcome political and social despondency. And on "Silver Lining," perhaps the album's brightest moment, Quinn surveys the damage of hard drugs and the vicious cycle of addiction, as the song's melancholic sentiment kicks into its fervid, defiant chorus, all shout-along vocals and trilling guitars.

Taken together, the self titled 'Mt. Joy' LP is a startlingly open document, wracked with the anxieties and fears that come just as life seems to start working out. It's a natural reaction from a wary band like Mt. Joy - the result of a sort of professional vertigo, as they've gone from virtual unknowns to hot young commodity in little over a year. But there's a sense of hope underlying everything, girded by the fact that the Mt. Joy LP is an impressive, honest portrayal of a young band facing that moment where dreams become reality, and finding beauty in the exhilarating uncertainty of it all.

Venue Information:
Space Ballroom.
295 Treadwell Street
Hamden, CT, 06514