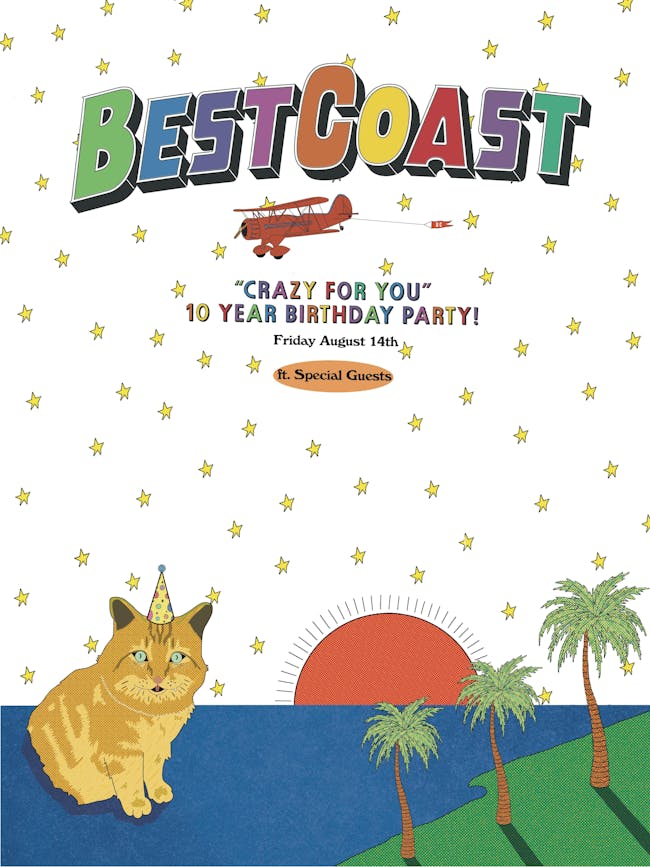 Premier Concerts and Manic Presents:
Best Coast (live stream)
Space Ballroom.
Hamden
,
CT
$10.00 - $15.00
Sales Ended
On Seated
Best Coast's first album Crazy For You turned 10 years old. To celebrate, the band put together a mini concert documentary/virtual birthday
Livestream begins August 14 at 9pm. The video archive will be available for 72 hours following the stream.
*This event is NOT happening at Space Ballroom

In 2009, I started writing songs, locked in the bedroom of my mom's house in Burbank, no clue what I was going to do with my life. I had just dropped out of college (not the first time I had dropped out of school) and was living back in my home state of California, with no fucking idea what my life was about to become. Everyday I would write a song or two about the angst, confusion, anxiety, and existential dread I felt as an early 20-something college drop out. I would sit in that little room, on a mattress on the floor, and have what felt to me like a therapy session with my guitar and a notepad. I started sending these songs to my friend Bobb Bruno, who I'd known since I was 17, and he started sprinkling his parts on top of them.

I really wish I could explain Best Coast's story in a more profound way, but in all honesty, I can't -- because I remember so little of it. Before I knew it, we were a band with a record deal touring the world, playing on late night TV, signing peoples LP sleeves, and doing music videos with Drew Barrymore. The majority of the time that my band was taking off, I was stuck in a dark daze. My romantic relationship was a topic of conversation, my cat was asked about in interviews, my drug and alcohol abuse was on public display. Everyday was like Groundhog's Day -- I was repeating the same self-destructive patterns day in an day out.

We played Lollapooloza in 2011 and I literally started the set by flipping someone off in the crowd and saying, "Fuck you, we're Best Coast." I didn't do that because I was some badass Joan Jett rock star. I did that because I was deeply miserable and deeply insecure about what you thought of me so I wanted you to see me as someone who didn't give a fuck.

After we finished the album cycle for California Nights, something terrifying happened to me. I felt creatively paralyzed. I couldn't write music. For the first time in my entire life, I had nothing to say. There was so much bubbling inside of me, so many things happening, so much to process, but I couldn't get any of it out. I didn't leave my house. I drank wine alone on my couch. I watched every season of Vanderpump Rules available on Hulu. Trump had won the election. I was miserable and nothing was ever going to change. One day, I locked myself in my closet and I forced myself to write. It was the first time in years I was able to get something out. And out came "Everything Has Changed." The song was like a vision of life I wished I was living. A life in which things didn't look so foggy. A life in which I didn't drink anymore. It wasn't the life I was living. Not yet. But that song was prophetic. It described the life I would soon be living.

I guess it's no secret that I was a bit of a "party girl" in the early stages of Best Coast. My life went from college drop-out to Billboard-charting indie musician in a very short period of time. No one teaches you how to handle success or failure. I had zero coping skills. I turned to the only help I could think of, numbing the problems and the pain away. And it worked, until it didn't. On November 12, 2017, I decided that enough was enough and made the decision to get sober. It's been hard, it's been beautiful, it's been scary -- and something I'm proud of. I can't tell the story of this album without mentioning my sobriety, because it's a huge part of this story.

Always Tomorrow is the story of where I was and where I am now. As well as the struggles I am still learning to identify and figure out because lets face it, life is fucking hard, and like I said before, there is no guidebook. Some days I wake up and I feel like I'm on top of the world and I forget about everything that's ever bummed me out, and other days, it all comes flooding back. This album is about leaving the darkness for the light, but still understanding that nothing is ever going to be perfect. It's an album about attempting to fix your broken patterns and learning to get out of your own way. It's about burning it all down and starting from scratch even when the idea of that is fucking terrifying. Closing one chapter and moving onto the next even when you have no idea what is on the other side. Acceptance. It's about taking a gigantic leap of faith.

I hope this record helps people. It's easier to stay comfortable in the insanity, but for me, there just came a time where I had to get off the ride. I had to look at life and ask, Why am I still doing this? I was writing the same song over and over again: I'm miserable! But I wasn't doing much to change that. I still fail at times, but I'm less afraid of failing than ever before. This record is the story of a second chance.

Venue Information:
Space Ballroom.
295 Treadwell Street
Hamden, CT, 06514