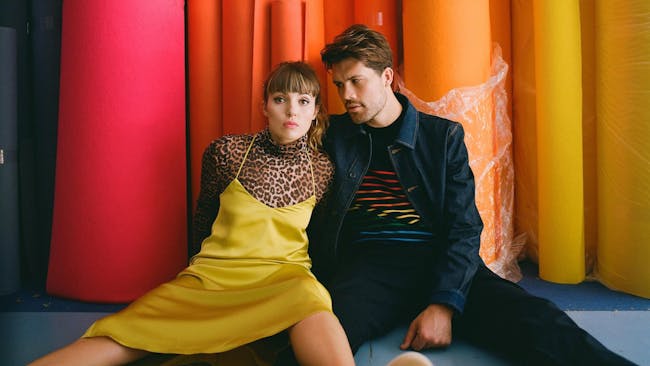 Premier Concerts and Manic Presents:
Oh Wonder: Wear Your Crown Tour
Winona Oak
College Street Music Hall
New Haven
,
CT
$30.00 - $120.00
Canceled
This event is General Admission Standing Room on the Floor. There will be limited first-come, first-served seating available in the back.
***In the interest of public health, Oh Wonder has CANCELLED their April 4th show. Refunds available at point of purchase. If purchased via credit card, refunds will automatically be issued to the card you used to purchase tickets within 30 business days.***
OH WONDER
Ask, believe, receive: in the early days of Oh Wonder, Josephine Vander Gucht and Anthony West would religiously transcribe their goals for the project, hoping to visualise them into existence. "I found the notebooks recently," Josephine chuckles today, sat in the kitchen of their South London home. "It was like: get played on Radio 1, have 100,000 YouTube views, and shift 200 EPs." Five years, over two billion streams, 300,000 global headline tickets and more than a million record sales down the line, Oh Wonder long surpassed those modest ambitions.
Anthony and Josephine's paths first crossed when they were solo artists, both playing pubs and small clubs up and down the UK. By chance, Anthony was in the audience for one of Josephine's gigs, and within a year he was enlisted as a producer and co-writer for her solo material. It was whilst working together that they wrote 'Body Gold' and conceived Oh Wonder as a recording project to showcase their songwriting. From there, the duo set themselves the challenge of sharing a track a month via SoundCloud, an original and innovative method to share new music that turned out to be impressively ahead of its time and has since been adopted frequently by many other artists across the globe. 'Body Gold' was their first upload, in September 2014, and within three days it had amassed over 100,000 streams. Oh Wonder's eponymous debut arrived a year later, shortly followed by their first live show at London's ICA. Since then they have toured across the globe, with shows from New Zealand to Russia, Colombia to Korea, and Taiwan to Tel Aviv.
Plunged into a life of near-incessant touring, there was no choice but to write the follow-up on the road. Today, Anthony recalls "shoehorning" recording sessions into snatched moments during one particularly frenetic six-week touring stint. Eventually released in July 2017, 'Ultralife' reflects that period of mild mania. The record took the duo round the world once more, from the palm-fringed deserts of California for a triumphant show at Coachella, to the forests of Indonesia, where they headlined Java's LaLaLa International Festival. In a period packed with pinch-yourself moments, Josephine cites their performance at Lollapalooza Brazil in 2018 as a particular highlight. "There must have been, like, 50,000 people: you couldn't even see the end of the audience," she says, shaking her head in disbelief. "And the first section that you could see were singing every single word. I could just see my little brother in the middle of the crowd being like, 'What the fuck is happening here?!'"
Once touring commitments were completed, Oh Wonder took some much-needed time out to collect their thoughts before embarking on the next chapter of the band. "The number one thing we wanted for this new record was perspective, because it'd been this mad ride," Josephine explains, leaving Anthony to finish her train of thought. "So we took three months off, got a dog, rested, and allowed ourselves time to write everything before we started recording it."
Consequently, the self-produced, Cenzo Townshend-co-mixed (Bat For Lashes, Christine & The Queens, Jungle), 'No One Else Can Wear Your Crown' is undeniably Oh Wonder's most considered collection to date. Where their debut simply compiled the 13 singles they'd drip-fed their audience online over the course of a year, and 'Ultralife' featured the only 12 tracks written in the brief window allocated for recording, the final tracklisting of their third LP was whittled down from a much larger pool of material. Periods co-writing with talent in L.A. and New York helped shape elements of several songs on the album, with those ideas further refined back home in the band's garden studio.
It's in this spirit of opening up that Oh Wonder are finally happy to resolve speculation around their relationship status, too. "We've known each other nine years, been a couple for seven, and been a band for five," Anthony explains. There is, evidently, more to the duo than may first meet the eye. They designed their own house and built their own studio; run marathons together (and are passionate about the connection between fitness and mental health); there's even a plan to open a SE London coffee shop (Anthony is a self-confessed coffee obsessive and has acquired an encyclopaedic knowledge of it over years of touring). Whilst their new material is energised by having the headspace to explore these interests, it nonetheless feels – Josephine expands - "like we're actually a brand new band. We've had chance to stop and decide what we actually want to do, so it feels like a reset."
For the classically-trained Josephine, that reset involved starting from scratch learning jazz piano. The experience of mastering new techniques and jazz phrasing proved a direct influence on the composition of 'No One Else Can Wear Your Crown', alongside exposure to the South East London jazz scene, including regular trips to Deptford's Steam Down night. Happily, some things don't change, and the duo's distinctive, interwoven vocals remain at the forefront of the album, lending a magnetic intimacy to what is an expansive, lushly-realised set.
If 'No One Else Can Wear Your Crown' has an overriding message, it's self-acceptance and empowerment. It's there in the Carpe Diem chorus of 'Hallelujah', which has the feel of a mission-statement for the band. 'Hallelujah' is a song of defiance that we wrote for anyone that has ever been told they can't do something. As music-making teenagers, we were both discouraged by naysayers who declared that we would never be successful, that we weren't good enough, and that we could never be superstars, so we should just give up. When we met each other, we bonded over our shared experiences of setbacks and near-misses. 'Hallelujah' is a reminder to ourselves, as much as anyone else, to not care what people think of you, to work hard, be yourself and try your best."
Elsewhere on the record, Oh Wonder put modern, millennial love under the microscope (their own working and romantic relationship included). 'Happy', for instance, describes that moment when you are able to wish your ex well with their new love, and actually mean it: the fact it was written by Anthony about an old girlfriend and sung together with his actual girlfriend is an irony that delights the pair. Then there's the wildly romantic 'In And Out Of Love', which Anthony jokes is their "coming out as a couple song". And whilst Josephine self-deprecatingly describes 'How It Goes' as "Craig David's '7 Days' for the sad generation", it preaches a deeply important message - that it's ok not to be ok.
For on their third album, Oh Wonder prove themselves a band able to capture those extreme highs and lows of daily life in intimate, emotional but uniformly positive fashion. 'Better Now' is a particular case in point, which the duo wrote, they say, "after hearing the sad news of a family member going through an incredibly tough and emotional birth of their first child. The song reflects on what it must feel like to be in a waiting room, on the other side of the wall to your loved one - helplessly trying to navigate the unknown, but fiercely hopeful."
Whatever the subject matter, it's difficult not to leave 'No One Else Can Wear Your Crown' feeling uplifted; or as, Anthony puts it, "Even the sad stuff is positive." "I get really emotional thinking about [the album]," Josephine agrees, in a rare moment of seriousness, "because we've definitely done our absolute best."
Recharged and ready for the next chapter, Oh Wonder appear more able than ever to just make it work: whether navigating the big questions of how to live and work with your partner down to the everyday drama of what happens to your dog now you have to go back on tour. 'No One Else Can Wear Your Crown' is a candid, restorative set that offers a welcome antidote to our turbulent times, from a band firmly writing their own bright future. Ask, believe, receive.
Links: Official Website | Facebook | Instagram | Twitter | Spotify
WINONA OAK
Born and raised in the Nordic forests of Sweden on small crop of land called Sollerön - known as the Island of the Sun - Winona Oak is every bit as enchanting as her origin story. Growing up encountering more animals than people, she became a trained horse acrobat in her teenage years, and pursued creative expression however she could, writing poetry and songs from a young age. Her grandmother performed in the Swedish Royal Opera, and passed that legacy onto Winona Oak, who began playing violin at 5 years old and piano at 9 years, in addition to singing throughout her youth.

Just a mere 20 years or so later, Winona Oak is about to start her own artistic career. In 2018 she collaborated with What So Not on three songs off of his album and featured on "Beautiful". New music out in 2019 on Neon Gold / Atlantic Records.

Links: Official Website | Facebook | Instagram | Twitter | Youtube

Venue Information:
College Street Music Hall
238 College Street

New Haven, CT, 06510