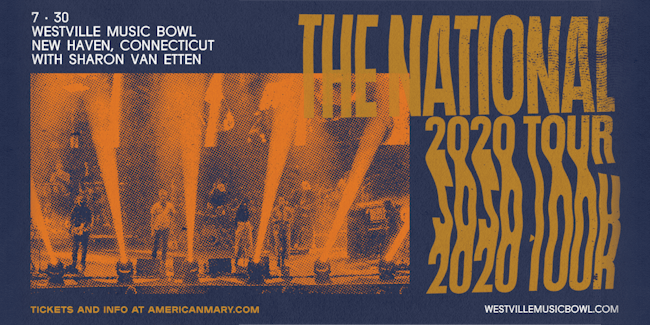 Premier Concerts and Manic Presents:
The National
Sharon Van Etten
Westville Music Bowl
New Haven
,
CT
$49.50 - $55.00
Postponed
This event is General Admission Standing Room on the Floor and Reserved Seated in the Bowl. Rain or shine event, no outside food or beverage
A message from The National:
We are sad to announce that our 2020 summer tour dates are being postponed due to COVID-19. We are working hard to reschedule each of these dates for 2021. As soon as we have dates and details confirmed we will let you know. All tickets will be honored or refunded at that time. Please stay safe and we'll see you next summer.
The National has partnered with PLUS1 to support delivering reproductive health care, sex education, and information to millions of people through Planned Parenthood.
THE NATIONAL
During their sixteen year career The National have sold over 1.7 million albums worldwide, they have established themselves as mainstays of arenas and festivals with sold-out performances and headlining slots around the world. Their most recent album and accompanying film 'I Am Easy To Find' was met with critical acclaim, and 2017's 'Sleep Well Beast' won Best Alternative Music Album at the Grammy Awards and achieved #1's in the UK, Ireland, Portugal and Canada.
Both individually and collectively The National's members have been involved in countless artistic, charitable and socio-political pursuits.
The National consists of Matt Berninger (vocals) fronting two pairs of brothers: Aaron (guitar, bass, piano) and Bryce Dessner (guitar, piano), and Scott (bass, guitar) and Bryan Devendorf (drums).
Links: Official Website | Facebook | Instagram | Twitter | Spotify
SHARON VAN ETTEN
Sharon Van Etten's Remind Me Tomorrow comes four years after Are We There, and reckons with the life that gets lived when you put off the small and inevitable maintenance in favor of something more present. Throughout Remind Me Tomorrow, Sharon Van Etten veers towards the driving, dark glimmer moods that have illuminated the edges of her music and pursues them full force. With curling low vocals and brave intimacy, Remind Me Tomorrow is an ambitious album that provokes our most sensitive impulses: reckless affections, spirited nurturing, and tender courage.

"I wrote this record while going to school, pregnant, after taking the OA audition," says Van Etten. "I met Katherine Dieckmann while I was in school and writing for her film. She's a true New Yorker who has lived in her rent controlled west village apartment for over 30 years. Her husband lives across the hall. They raised two kids this way. When I expressed concern about raising a child as an artist in New York City, she said 'you're going to be fine. Your kids are going to be fucking fine. If you have the right partner, you'll figure it out together.'" Van Etten goes on, "I want to be a mom, a singer, an actress, go to school, but yeah, I have a stain on my shirt, oatmeal in my hair and I feel like a mess, but I'm here. Doing it. This record is about pursuing your passions." The reality is Remind Me Tomorrow was written in stolen time: in scraps of hours wedged between myriad endeavors — Van Etten guest-starred in The OA, and brought her music onstage in David Lynch's revival of Twin Peaks. Off-screen, she wrote her first score for Katherine Dieckmann's movie Strange Weather and the closing title song for Tig Notaro's show Tig. She goes on, "The album title makes me giggle. It occurred to me one night when I, on autopilot, clicked 'remind me tomorrow' on the update window that pops up all the time on my computer. I hadn't updated in months! And it's the simplest of tasks!"

The songs on Remind Me Tomorrow have been transported from Van Etten's original demos through John Congleton's arrangement. Congleton helped flip the signature Sharon Van Etten ratio, making the album more energetic-upbeat than minimal-meditative. "I was feeling overwhelmed. I couldn't let go of my recordings - I needed to step back and work with a producer." She continues, "I tracked two songs as a trial run with John [Jupiter 4 and Memorial Day]. I gave him Suicide, Portishead, and Nick Cave's Skeleton Tree as references and he got excited. I knew we had to work together. It gave me the perspective I needed. It's going to be challenging for people in a good way." The songs are as resonating as ever, the themes are still an honest and subtle approach to love and longing, but Congleton has plucked out new idiosyncrasies from Van Etten's sound.

For Remind Me Tomorrow, Van Etten put down the guitar. When she was writing the score for Strange Weather her reference was Ry Cooder, so she was playing her guitar constantly and getting either bored or getting writer's block. At the time, she was sharing a studio space with someone who had a synthesizer and an organ, and she wrote on piano at home, so she naturally gravitated to keys when not working on the score - to clear her mind. Remind Me Tomorrow shows this magnetism towards new instruments: piano keys that churn, deep drones, distinctive sharp drums. It was "reverb universe" she says of the writing. There are intense synths, a propulsive organ, a distorted harmonium.

The demo version of "Comeback Kid" was originally a piano ballad, but driven by Van Etten's assertion that she "didn't want it to be pretty", it evolved into a menacing anthem. Cavernous drones pull the freight for "Memorial Day," which fleshes out an introvert in warrior mode. The spangled "Seventeen" began as a Lucinda Williams-esque dirge but wound up more of a nod to Bruce Springsteen, exploring gentrification and generational patience. Van Etten shows the chain reaction, of moving to a city bright-eyed and hearing the elders complain about the city changing, and then being around long enough to know what they were talking about. She wrote the song semi-inter-generationally with Kate Davis, who sang on a demo version when the song was in its infancy.

Since her last album, Van Etten has had a young son, and family life is joyful. Preparing and finishing these songs, she found herself expressing deep doubts about the world around him, and a complicated need to present a bright future for him. "There is a tear welling up in the back of my eye as I'm singing these love songs," she says, "I am trying to be positive. There is strength to them. It's— I wouldn't say it's a mask, but it's what the parents have to do to make their kid feel safe."

Alongside working on Remind Me Tomorrow, Van Etten has been exploring her talents (musical, emotional, otherwise) down other paths. She's continuing to act, to write scores and soundtrack contributions, and she's returning to school for psychology. The breadth of these passions, of new careers and projects and lifelong roles, have inflected Remind Me Tomorrow with a wise sense of a warped-time perspective. This is the tension that arches over the album, fusing a pained attentive realism and radiant lightness about new love.

Links: Official Website | Facebook | Instagram | Twitter | Spotify

Venue Information:
Westville Music Bowl
45 Yale Avenue
New Haven, CT, 06515