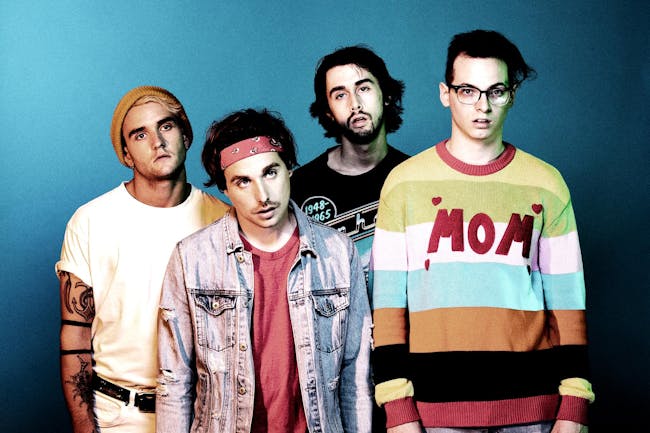 Premier Concerts and Manic Presents:
The Wrecks
Mighty Tortuga
Space Ballroom.
Hamden
,
CT
General Admission Standing Room Only.
***In the interest of public health, The Wrecks has CANCELLED their April 6th show. Refunds available at point of purchase. If purchased via credit card, refunds will automatically be issued to the card you used to purchase tickets within 30 business days.***
THE WRECKS
Los Angeles-based indie rock band The Wrecks root from Thousand Oaks, CA. The group consists of Nick Anderson (vocals/guitar), Nick Schmidt (guitar), Aaron Kelley (bass), and Billy Nally (drums). Heavily influenced by groups such as The Pixies, The Strokes, Weezer, and Vampire Weekend, this 5-piece isn't afraid to blend undeniably catchy choruses, with lyrics and vocals that have an underlying substance and a certain quirk that give them their young, signature sound.
The band actually recorded their upcoming debut EP on a whim, alongside friend and engineer Andrew D'Angelo, when they were surprised with the news that a friend had been granted access to a studio for just a few days. With a total budget of $0, and only a week as a band under their belts, the group set out to record the best songs that they could in 3 days. After working ridiculous hours through the night, and to the next day whenever they could get in the studio, the 3 days were over and the EP was cut. Little did the band know, they were not even allowed to be in the studio that week. So through feelings of guilt and worry, they cleaned every bit of information of theirs from the studio computer, every crumb of Dominoes from the studio couch, and they were off with their entire EP on an hard drive in a backpack.
On March 18th, 2016 The Wrecks released their first single Favorite Liar. "Catchy and reeking of mischief, "Favorite Liar" is their first single. It's nostalgic, it's punchy, it hits all the right builds." - Infectious Magazine
Links: Official Website | Facebook | Twitter | Instagram | Spotify
MIGHTY TORTUGA
Mighty Tortuga is Connecticut's answer to smooth dream-rock. Their sound shows signs of 90's emo power pop, with a sense of maturity and relatability. In a scene saturated by pop punk, they are providing a unique sound that is fresh and exciting.

Links: Official Website | Facebook | Twitter | Instagram | Spotify

Venue Information:
Space Ballroom.
295 Treadwell Street

Hamden, CT, 06514