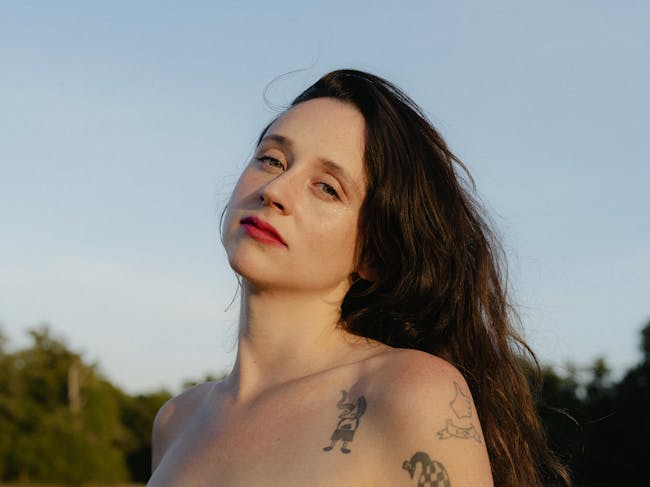 Premier Concerts and Manic Presents:
Waxahatchee performing Saint Cloud (live stream)
Space Ballroom.
Hamden
,
CT
$15.00 - $60.00
Sales Ended
On NoonChorus
Waxahatchee performing her new album Saint Cloud in its entirety.
In light of the deaths of George Floyd, Breonna Taylor, Ahmaud Arbery & so many more and all the subsequent protests around the world I've decided to push my livestream series back by one week to hold space & stand in solidarity with those protesting now during this important moment in the fight against white supremacy & police violence. I know that music is so healing but I truly feel like right now we need to focus on this meaningful fight & process the cumulative grief. All tickets will be honored, every show will just be one week later now. Black lives matter, now & forever.
Livestream begins July 6 at 9pm. 72-hr rebroadcast begins at midnight following the stream. Can't make it to the livestream? Tickets are on-sale until the end of the rebroadcast.
*This event is NOT happening at Space Ballroom

Waxahatchee's Katie Crutchfield, a lyricist who has always let her listeners know exactly where she is at a given moment, spent much of 2018 reckoning with these questions and revisiting her roots to look for answers. The result is Saint Cloud, an intimate journey through the places she's been, filled with the people she's loved.

Written immediately in the period following her decision to get sober, the album is an unflinching self-examination. From a moment of reckoning in Barcelona to a tourist trap in Tennessee to a painful confrontation on Arkadelphia Road, from a nostalgic jaunt down 7th Street in New York City to the Mississippi Gulf, Crutchfield creates a sense of place for her soul-baring tales, a longtime staple of her storytelling.

This raw, exposed narrative terrain is aided by a shift in sonic arrangements as well. While her last two records featured the kind of big guitars, well-honed noise, and battering sounds that characterized her Philadelphia scene and strongly influenced a burgeoning new class of singer-songwriters, Saint Cloud strips back those layers to create space for Crutchfield's voice and lyrics. The result is a classic Americana sound with modern touches befitting an artist who has emerged as one of the signature storytellers of her time.

From the origins of her band name—the beloved creek behind her childhood home—to scene-setting classics like "Noccalula" and "Sparks Fly," listening to Waxahatchee has always felt like being invited along on a journey with a steely-eyed navigator. On Saint Cloud, Crutchfield adds a new sense of perspective to her travels. Reflecting on this, she says, "I think all of my records are turbulent and emotional, but this one feels like it has a little dose of enlightenment. It feels a little more calm and less reckless."

Many of the narratives on Saint Cloud concern addiction and the havoc it wreaks on ourselves and our loved ones, as Crutchfield comes to a deeper understanding of love not only for those around her but for herself. This coalesces most clearly on "Fire," which she says was literally written in transit, during a drive over the Mississippi River into West Memphis, and serves as a love song to herself, a paean to moving past shame into a place of unconditional self-acceptance. Coming from a songwriter long accustomed to looking in other directions for love, it's a stirring moment when Crutchfield sings, "I take it for granted/If I could love you unconditionally/I could iron out the edges of the darkest sky."

Which is not to say that Saint Cloud lacks Crutchfield's signature poetry on matters of romantic love. Still, her personal evolution in this area is evident too, as this time around, Crutchfield examines what it really means to be with someone and how it feels to see our own patterns more clearly. On "Hell," she sings: "I hover above like a deity/But you don't worship me, you don't worship me/You strip the illusion, you did it well/I'll put you through hell."

Crutchfield also looks at what it's like to be romantically involved with another artist, someone in search of their own truth, on "The Eye": "Our feet don't ever touch the ground/Run ourselves ragged town to town/Chasing uncertainty around, a siren sound" and "We leave love behind without a tear or a long goodbye/as we wait for lightning to strike/We are enthralled by the calling of the eye."

And of course, even when Crutchfield is taking a more nuanced approach to love, her ease with all-encompassing sentiments is still clear, with lines like "I give it to you all on a dime/I love you till the day I die" which sound culled from a classic torch song.

Over the course of Saint Cloud's 11 songs, which were recorded in the summer of 2019 at Sonic Ranch in Tornillo, TX, and Long Pond in Stuyvesant, NY, and produced by Brad Cook (Bon Iver, Big Red Machine), Crutchfield peels back the distortion of electric guitars to create a wider sonic palette than on any previous Waxahatchee album. It is a record filled with nods to classic country (like the honky tonk ease of "Can't Do Much"), folk-inspired tones (heard in the confessional lilt of "St. Cloud"), and distinctly modern touches (like the pulsating minimalism of "Fire").

Saint Cloud marks the beginning of a journey for Crutchfield, one that sees her leaving behind past vices and the comfortable environs of her Philadelphia scene to head south in search of something new. If on her previous work Crutchfield was out in the storm, she's now firmly in the eye of it, taking stock of her past with a clear perspective and gathering the strength to carry onward.

Venue Information:
Space Ballroom.
295 Treadwell Street
Hamden, CT, 06514